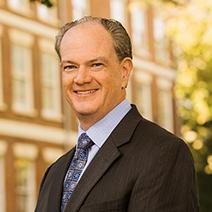 "Welcome to the Franklin Residential College, the only student-governed residential college at the University of Georgia. Much as Rutherford Hall is among the crown jewels of the new generation of residence halls at UGA, Rutherford itself houses a unique community of scholars that enhances their academic activities with cultural and social enrichment of a small college atmosphere.
This blend of majors from across Franklin College departments and students at every stage of campus experience creates an intellectual environment that harkens back to the origins of higher education. At the same time, the residential college experience propels our students to ever-greater heights of classroom achievement that underscores the interdisciplinary nature of today's disciplines – and tomorrow's careers. Learning how to work and live together with students from every corner of campus – scientists with artists, researchers with teachers – advances our society with each year's cohort. Whether studying over meals, discussing seminars or attending concerts together, the unique set of experiences at the Franklin Residential College stays with our students long after they leave campus.
The Franklin College of Arts and Sciences is the heart of UGA. And with the Franklin Residential College at the heart of campus on the Myers Quad, our commitment to excellence at the leading edge of student experience and achievement grows stronger. Explore the FRC and discover what UGA is really all about."
- Alan Dorsey, Franklin College Dean