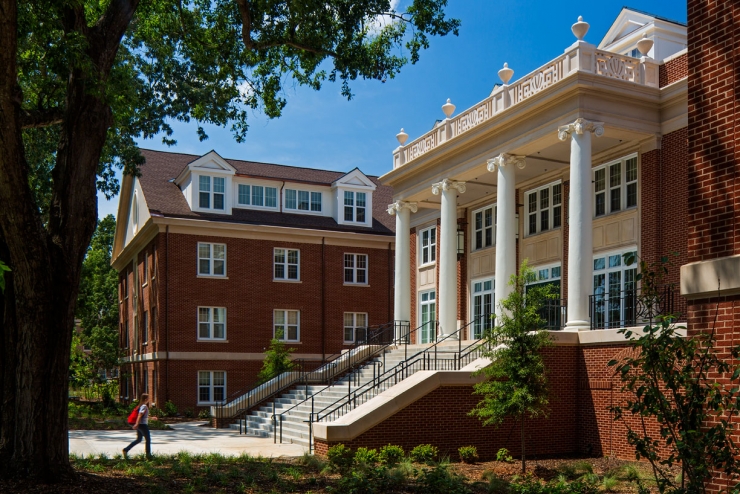 Established in 2000, the Franklin Residential College is a collaborative partnership among the Franklin College of Arts and Sciences, the Office of Instruction, and University Housing. The purpose of the FRC is to infuse the intellectual excitement of the arts and sciences at UGA into the residential life of the program participants residing in Rutherford Hall. Three people in particular were instrumental in bringing the FRC foward - Former Dean Wyatt Anderson of the Franklin College of Arts and Sciences, former Vice President for Instruction, Tom Dyer, and former Director of University Housing, Jim Day. The program would never have come to fruition without them. It was the concept of VP Dyer who was committed to bringing academics into housing, and he who initiated advising in housing.
Dr. Michelle Garfield Cook, currently Senior Vice Provost for Institutional Diversity and University of Georgia Chief Diversity Officer, was the inaugural Dean of the Franklin Residential College where she served for four years. At that time, Dr. Cook was an Associate Dean in the Franklin College of Arts & Sciences. From 2004-2010, the late Dr. J. Douglas Toma, an associate professor at the Institute of Higher Education, served as the Dean of the Franklin Residential College. Toma lived in Rutherford Hall with his wife, Dr. Linda Bachman, and their son Jack. In fall of 2010, the Tomas moved out of Rutherford Hall, and a graduate student, Leasa Weimer, occupied the residential position. Toma and Weimer worked together to plan events for the FRC and ensure that the organization was running properly.
In the fall of 2011, Eugene Wright, a scientific illustration professor, became the FRC's new Senior Dean, and Kameron Sheats became the Residential Dean.Together, Gene and Kameron worked to plan a budget, organize special programs and create events for the FRC.
In the fall of 2012, as the reconstruction phase began, Dr. Rebecca Simpson-Litke moved into Building 1516 to become the FRC's Residential Dean. For the 2012-2013 academic year, the FRC was located in Building 1516 as Rutherford Hall underwent renovations. In the fall of 2013, Rutherford Hall once again became home for the FRC. Rebecca and her family lived in Rutherford and worked with the FRC until Spring 2017.
In the fall of 2017, we welcomed Ms. Chera Jo Watts as Academic Advisor in Residence to the Franklin Residential College. Chera resided in the Rutherford Hall apartment with her son, Cooper. Chera and Cooper hosted numerous events throughout the year to engage and connect with students.
In March 2018, Dr. Benjamin Ehlers joined the FRC as Director. He has enjoyed organizing academic events with students, planning FRC's return to Sapelo Island, and participating in the vibrant community of Franklin Residential College.