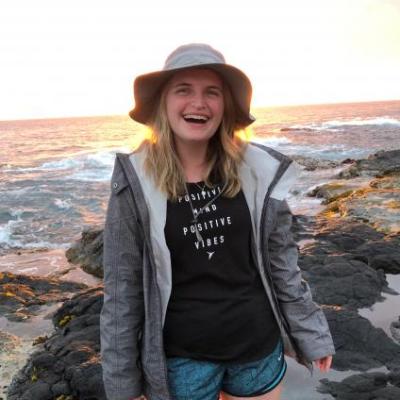 Shout out to graduating senior FRC alum Courtney Hogan for making a donation to FRC as part of her Senior Signature! Courtney lived in our community for two years, and served as an instrumental DA during restructuring of the FRC. Our current success is in large part due to her hard work!
What was your major/ minor?
My major was Computer Science.
What years were you involved with the FRC?
I was involved in the FRC from Fall 2016 to Spring 2018.  During that time, I served on the Executive Board as the Co-PR Chair from Fall 2016 to Spring 2017 and then as a Director's Assistant from Fall 2017 through Spring 2018 and into Summer 2018.
How did the FRC impact your college experience?
The FRC honestly played an integral part in making my college experience so multifaceted and fulfilling.  As an incoming Freshman from a small high school, I had no idea how to fit in and find my place as a Dawg.  I did not know how to put myself out there and make new friends in such a new environment where everyone seemed to already have their friends solidified!  I chose to be a part of the FRC directly coming to college because the idea of a small community home on such a large campus was incredibly appealing.  I genuinely do not think I would have stayed at UGA had it not been for the close-knit community I found and came to love in the FRC.  Meeting for weekly cookie nights, having friends to go do things with on and off campus, and living with a roommate in the FRC that I could relate to and loved living with was a game changer for me!  With the variety of events, I found myself getting exposure to more and more things that put me outside of my comfort zone, and growing in this way helped me learn about things I would never have seen and connect with people I would have never met had I not experienced them in the FRC.  I loved it so much and was so passionate about my experience that I decided to apply to be a Director's Assistant and make an impact on future lives within the FRC!  Although I was not able to spend my entire college career in the program, those were some of the best times I have had in my college experience!
What is your favorite FRC memory?
One of my favorite memories was probably when we did a sPoOkY cookie night to celebrate Halloween and we carved pumpkins on the back balcony of Rutherford!  You could either carve or paint pumpkins and eat cookies and snacks to your heart's content!  We dressed up to really get into the spirit and all had a blast carving eyebrows onto our pumpkin faces! 
Other Affiliations:
Franklin Residential College alum