Image: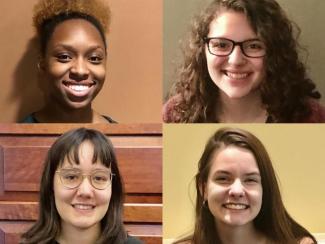 On Friday, January 10th, the FRC held the annual spring Welcome Back meeting to introduce and welcome six new members to the FRC family and relay important information about the program to everyone in attendance. Pertinent information was discussed in the meeting, such as:
the administrations' updated office hours (visible in the "Our Family" section)
a recap of how the point system works
new leadership opportunities
and 2020-21 room signup information
The FRC also took the opportunity to reward our top point earners with some UGA bookstore swag! Our highest point earner of the Fall 2019 semester was Jamie Kaiser, a first-year member with a whopping 240 points. When asked how being in the Franklin Residential College has shaped her first-year experience, she recounts, "It's been so amazing! I'm from out-of state, which is really rare at UGA, and so I knew no one here coming in. Being a part of the FRC and being able to go to all these different events has just really opened me up to such a great community here!"
Sommer Hipple, a returning member, was rewarded as an Exceptional Scholar for having attended the most academic events in the FRC, ending the fall semester with 100 academic points! When asked why she chose to continue her residency in the FRC, Sommer tells us, "The FRC is mainly composed of my good friends, so that's a huge incentive. I also really enjoy the community involvement it offers and all of the different academic events."
Christina Mapp, also a returning member and our 2019-20 Service Chair, was crowned the FRC's Social Butterfly with 105 social points. Christina's favorite FRC memories come from the weekly Cookie Nights with Chera Jo. She says, "They're really comfy and cozy and you get to know everyone, especially Chera Jo and Cooper, our favorite little member! All of the social events are just really fun, and I love getting to know everyone. Everyone's just really nice and we're like a big family."
We also got to hear from Casey Serrano, a first-year member, who received the Good Neighbor award with 70 service points! When asked how being in the FRC has influenced her first-year experience on campus, she says, "Being in the FRC has given me the opportunity to experience a lot of things on campus that I wouldn't have known about otherwise, so I think I've gotten a much wider experience of what campus is like!"
Congratulations and thank you to these ladies for their outstanding participation and dedication to our community! We're so excited to kick off this new year, and new decade, with amazing and insightful events for all of our members!