Image: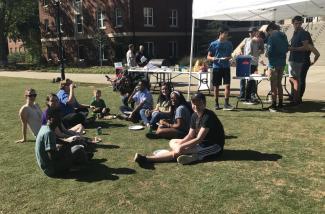 By  Amber Smith, 2017-2018 Director's Assistant and Public Relations Chair
           If I could sum up the Spring 2018 Semester with the Franklin Residential College in one word, I would use the word of a four-year-old boy living in a college dorm. "Friends" is what Cooper Watts, the energetic and intelligent son of the FRC Academic Advisor in Residence, Chera Watts, calls the FRC members. It could not be a more fitting word to describe the community of Arts and Sciences majors living in Rutherford Hall. Throughout the semester, I have been thrilled to be a part of many exciting events in the FRC, activities that have enriched the relationships among students and faculty at the University of Georgia. In my last article, I gave insight into the three categories of FRC events that we host throughout the year. Our academic, social, and service events allow members to interact with each other in a variety of settings. From Cookie Nights in Chera's apartment to service events at the NEGA Food Bank, the Spring 2018 Semester would not have been the same without the friends. This semester, I had the privilege to serve the FRC as Director's Assistant. Not only did I have the opportunity to connect on deeper levels with our members, I have also worked with an incredible team consisting of Executive Board Members, Director's Assistants, Chera Watts, and FRC Director, Dr. Ben Ehlers. The accomplishments of the hardworking FRC students and faculty in 2017-2018 show that the friends really care!
            If you are wondering what we have been up to since the New Year, then you have come to right place. In the beginning of the semester, we hosted a lovely Welcome Dinner with all of our members. The dinner was a formal way to introduce our spring plans while providing members with awards for highest point earners. Social events, like our Welcome Dinner, were full of laughter, chatter, and after, memories with friends that really care. I also have a fond memory of our Cookie Night at the UGA Trial Gardens. A group of us received an exclusive tour of the gardens while learning about a variety of plant species. At the end of the tour, members received their own free plant to take home! And I cannot forget the delicious cookies that we enjoyed before our walk over to the gardens. In addition, this spring we held a really fun Game Night. Members split into teams and challenged each other in a variety of games such as CandyLand and Monopoly. Rook and Pawn did not have anything on us! At the end of the semester, we hosted the first FRC Cookout. We enjoyed burgers, hot dogs, and veggie skewers on Myers Quad. These are only a few of our social events for the Spring Semester, but each one made an impact by bringing members closer together.
            The Franklin Residential College provided a variety of ways for our members to give back to the Athens community. The service events this semester, planned by our Service Chair Grace Lane, were creative and involved many cool hands-on activities. For instance, we made t-shirt blankets for the homeless using old recycled FRC t-shirts in the beginning of the semester. Also, we volunteered to clean-up Myers Quad on Saturday mornings. When the weather became warmer, FRC members helped the Green Roof Garden volunteers sustain UGA's rooftop garden. At our last service event, we traveled to the NEGA Food Bank in downtown Athens to make lunches for the homeless. We also got to crush and recycle cans! Friends really care about giving back to others.
            The University of Georgia has amazing faculty who truly care about giving back to others, especially students. Through FRC academic events, various professors met with a small group of eager students in Rutherford for intellectual discussions. At the beginning of the semester, we hosted a Director's Tea with Dr. Edison, a professor and GRA Eminent Scholar from the Biochemistry and Molecular Biology and Genetics Department. He gave an informative talk about his research with metabolomics and his educational and career paths. We also hosted a Director's Tea with Professor George Contini, the Associate Head of Acting, before attending play, Detroit, at the UGA Theatre. It was phenomenal! After Spring Break, we invited Dr. Michelle Cook, the inaugural FRC Director and Associate Provost for the Office of Institutional Diversity, to our Diversity and Inclusion Dinner. This was a formal and interactive dinner with open discussions about diversity. At the end of the semester, Chera teamed up with RA Khaira, to host an Undergraduate Research Opportunities program for students interested in finding research opportunities. Friends really care about their studies and our academic events allow them to learn about interesting topics across various arts and sciences disciplines.
            The FRC is the place to be if you are looking to network with students and faculty in a residential setting. I have loved being a part of this unique learning community because I have made valuable connections that will be with me beyond my stay in Rutherford. This semester was full of memorable academic, social, and service events! Do you know what made our events so memorable? Friends! Friends are students, advisors, professors, four-year-olds, dogs, and much more. Friends really care. Although it is bittersweet that this year with the friends is coming to an end, there will be more exciting events next year with a new group of friends. As I move towards becoming an FRC Alumn, I have one last message for the future members of the Franklin Residential College. The future of this organization is now in your hands! This is an experience that you will never forget, but you have to make the most of it. FRC events are made by the friends for the friends, and Rutherford would not be the same without them. After all, Cooper was right! The Franklin Residential College is a group of friends that really care about creating residential friendships. Thank you, FRC Class of 2018 for the friendships!