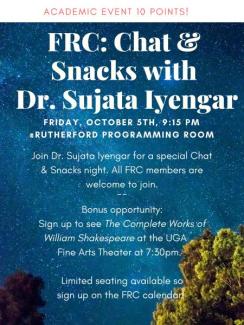 Rutherford Programming Room
Join Dr. Sujata Iyengar for a special Chat & Snacks night on Friday, October 5th at 9:15PM in the Rutherford Programming Room. Students will receive 10 Academic Points for attending the talk!
Students also have the opportunity to see The Complete Works of William Shakespeare at the UGA Fine Arts Theater at 7:30PM before the Chat & Snacks. Limited seating available - sign up on the FRC Calendar!